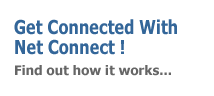 NET CONNECT is a wireless internet and telephone services provider based on the Costa Blanca. We use the latest, advanced technology to deliver outstanding Internet and Telephony access, right where you need it most.
Our aim is to provide internet and telephone services to areas where there is currently little, poor or even no service.
At NET CONNECT we have the solution.
Using transmitters in strategic areas, our network offers a wireless alternative to a conventional fixed line connection, using a small receiving panel installed on your roof and cabeled into a fixed point within the property. Alternatively, you can have a wireless router installed, giving you the freedom to connect to the internet with your laptop, anywhere in the house.

Simply give us a call and we will arrange for a technician to check the signal at your property. If it is positive we can have you connected and on line within days. We will also do all we can to help you convert over to the NET CONNECT money saving service as easily and efficiently as possible.
Connect NOW to really start saving money