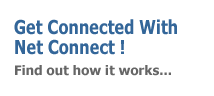 NET CONNECT is a wireless internet and telephone services provider based on the Costa Blanca. We use the latest, advanced technology to deliver outstanding Internet and Telephony access, right where you need it most.
Our aim is to provide internet and telephone services to areas where there is currently little, poor or even no service.
At NET CONNECT we have the solution.
Using transmitters in strategic areas, our network offers a wireless alternative to a conventional fixed line connection, using a small receiving panel installed on your roof and cabeled into a fixed point within the property. Alternatively, you can have a wireless router installed, giving you the freedom to connect to the internet with your laptop, anywhere in the house.

Simply give us a call and we will arrange for a technician to check the signal at your property. If it is positive we can have you connected and on line within days. We will also do all we can to help you convert over to the NET CONNECT money saving service as easily and efficiently as possible.
Connect NOW to really start saving money
Wireless Internet
Speeds available from 512kbps + with symmetrical speeds available

Working In Areas With Little Or No Internet Connectivity

Quality Customer Service Second To None

No Need For A Telephone Line

Technical Helpline Available

Fantastic Prices - If Not The Best

We Have Our Own Network & Infrastructure

Fully Licenced Spanish S.L. Business

Fast And Efficient Installation

No Hidden Charges - What You See Is What You Pay

Symmetrical Transmission Speeds Available (Same Upload/Download Speeds)

Fixed And Wireless Options Available On All Speeds
Net Connect's wireless internet network has been designed to provide internet to those residences or businesses who have little or no internet connectivity from the current providers in their area - all without the need of a telephone line.
We have developed our own systems with our own infrastructure which supplies the internet wirelessly, without the need for cables or phone lines. This means that we transmit the internet from our base station via radio signals to various masts around the area. The customer then connects on to the system by having a panel / antenna installed which receives the signal (radio) from the closest mast to their property. The only condition is that there must be a clear, unobstructive line of site between the property and the transmission mast - but this will be checked and verified by one of our technical installers
For pricing information see our PRODUCTS & PRICES section.
In addition to the internet we can also offer our telephone service if required, but not a must.
Check in our TELEPHONE SOLUTIONS section for further information and tariffs.